Many Crumblebears already found a new and loving home. The adoptive parents tell their story and present their adopted bear kid.
Adoptive Dad Alexander about Crumblebear Brownie
Lives in: Assmannshausen, Germany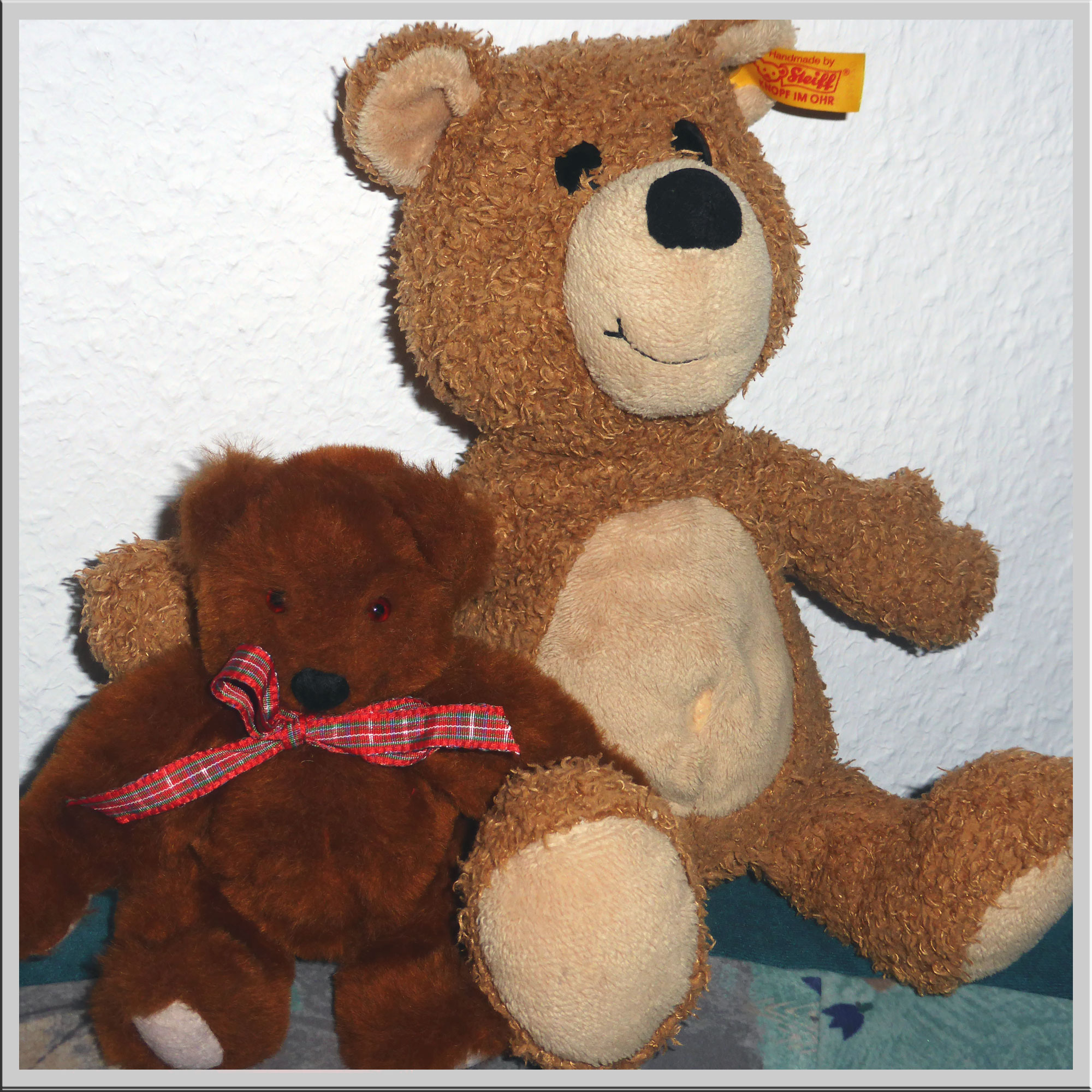 My teddy "Nabeli" wished for a little sibling. So I got in touch with Andrea because I knew that she could help him further. After a few weeks, "Brownie" made its way from the Odenwald to the Rheingau. Unfortunately he did not dress properly because when he knocked on the door he was frozen to the bone.
Apparently he likes overlooking the Assmannshäuser Höllenberg together with me. Because the red wine tastes great. He and Nabeli are one heart and one soul, licking the cup of Nusspli together. And then sit under the blanket on the couch and watch TV.
Adoptive Mom Leni about Crumblebear Daniel
Lives in: Lorsch, Germany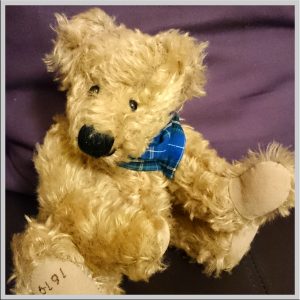 Frankly, I do not remember exactly when Daniel moved in with me. I definitely still lived in Erfurt, so it must have been before November 2015. I think the idea to build a website for the Crumblebears was also due to Daniel. Andrea had this thing in mind for quite a while and I thought "Well, it can not be that hard." Well, it took more than two and a half years to bring it live which probably shows that I underestimated the topic a bit… *lol* But now the website is here and wants to be filled with life. And of course, I also like to write a contribution for the adopted bear kids.
So now lets talk about my adoptive bear Daniel. He is a very nice, easy-care teddy bear. He prefers staying in the bedroom and to cuddle himself in the pillows. Daniel is accompanied by a plush dog and two cuddly dumplings and gets along pretty well with them. But most of all he loves it, when he may visit his old Crumblebears buddies in Bensheim, which is fortunately in the neighborhood. Daniel is also not picky and eats almost everything, preferably spaghetti 🙂 I also noticed that Daniel has a good taste in music. When I put on a Runrig CD, he is humming with great excitement and when he sees a concert on DVD, he is even dancing all around the living room which is so funny to see! At the beginning he might be a bit shy and cautious with strangers but loosens up fast, especially when you have a wee piece of chocolate for him.
You also adopted a Crumblebear?
Send us your story to contact@crumblebears.com or via our contact form.